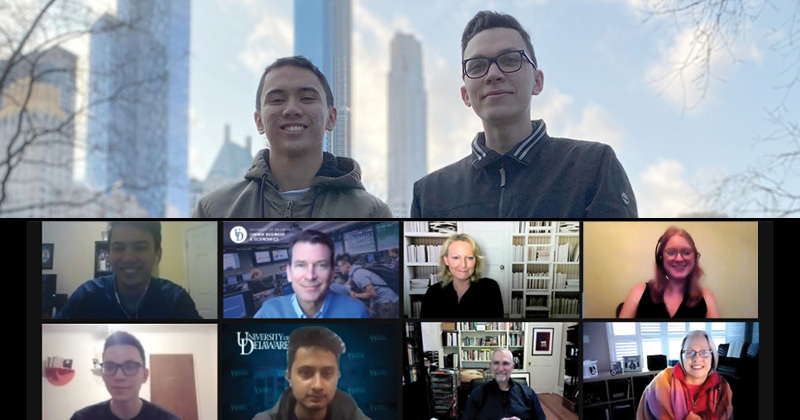 For EY, a worldwide firm that gives companies comparable to assurance, consulting, technique and tax, counting on information and forecasting to develop predictive hiring traits is important to fulfilling its mission. EY teamed up with the University of Delaware's Alfred Lerner College of Business and Economics to supply the inaugural Lerner Business Analytics Case Competition (LBACC), giving UD college students the chance to realize real-world expertise with enterprise analytics by creating potential hiring fashions for the corporate.
"Data analytics skills are highly sought after by employers," stated Andrea Everard, professor of management information systems, who is among the UD organizers of the competitors. "Fortunately, these important concepts are taught across seven colleges at UD. A former student of mine was recruiting for EY at UD and I approached him about the opportunity for Lerner to partner with EY to give the students an exciting learning experience through a case competition. The rest is history."
More than 50 college students, representing the UD's Lerner College, the College of Engineering and the College of Agriculture and Natural Resources, made up the 17 groups which participated on this 12 months's competitors, which was co-organized by Everard and fellow MIS Professor Kathryn Berkow. The case requested contributors to discover traits in hiring practices and to make suggestions for a way EY could make adjustments to their methods by contemplating the tempo of worldwide growth, distant work, technological development and different current traits. Although EY supplied college students some information sources, college students had been inspired to do analysis on different related sources and fashions, and use these so as to make their suggestions.
"I want to thank Ernst and Young for sponsoring the Case Competition," stated Jack Baroudi, professor of MIS and senior affiliate dean of educational applications on the Lerner College, through the LBACC awards ceremony. "It's through these types of industry partnerships that we're able to provide our students with real-world learning opportunities and to get feedback from industry on their presentations and analyses. It's such an incredibly valuable experience."
The digital competitors, which happened over a four-week interval from Jan. eight via Feb. 5, was distinctive in permitting each UD undergraduate and graduate college students to compete collectively. Several EY staff and UD graduates — Gregory Doyle, companion in accounting and UD Class of 1996; Becky Pellini, danger assurance managing director and UD Class of 2001; and Michael Moore, managing director and UD Class of 2013 — served as judges for the competitors alongside 17 Lerner school members. 
"It is a great pleasure to have had a chance to review the submissions," stated Doyle. "I learned something new from every one of them, something that I want to share with my colleagues at EY. There were great recommendations and creative uses of the data. What impressed me the most were the rich data sets that students were able to find."
"Watch the Throne," a group composed of UD undergraduate college students Michael Sposato and Lorenzo "Enzo" Andaya, gained the competitors. They had been the one undergraduate college students to make it to the ultimate spherical of the competitors. Sposato from Port Chester, New York, and Andaya from Dover, Delaware, are each members of the UD Class of 2022 majoring in MIS and minoring in business analytics.
Sposato and Andaya are shut buddies and had been each taking winter session programs after they acquired an electronic mail concerning the LBACC from Lerner's Accounting and MIS Department. Andaya stated that in this time of digital studying, that they had additional free time and had been on the lookout for alternatives to realize extra sensible expertise of their area.
"I learned the basics of cleaning data and how to visualize it in my prior classes, which allowed me to be able to do that for the competition," Sposato stated. "EY gave us a really good outline of what question we were supposed to answer, but we had to go on our own to find all the data to do our analysis. I don't think we realized how difficult it would be to find relevant data that we could really work with but we kept looking and figured out how to really use what was available."
Said Andaya, "I would definitely say that when we first started out, we were kind of like, 'Hey, we're going to see where this goes.' Once we made it past the first round, we decided that we were going to take all of these recommendations [from the faculty judges] to heart and we were going to go 100%. When they announced that we were first, I wouldn't say we were necessarily surprised, because we had put in a lot of good work, but hearing them say it was definitely surreal."
The second place group, known as the "Survivors", was made up of UD MBA college students Thi Quynh Pham and MBA business analytics majors Shirish Ghimire and Marylyn Chioma Atuegbu. The third place group was the "Success Assessor" made up of graduate college students Melissa Bundy, a joint MBA/MS BAIM scholar, Dipti Dighe, an MBA scholar majoring in enterprise analytics, and Jennifer Palladino, an MBA candidate. The first, second and third place groups of the LBACC had been acknowledged by EY with plaques, in addition to prizes, together with Apple watches for the first-place group.
"Case competitions are a great investment of a student's time and energy…the opportunity to use what they have learned in the classroom is second to none," Everard stated. "The experience also provides more context for their future classes. Case competitions are also a great way to practice presentation skills. The more presentations you do, the better you become at them."